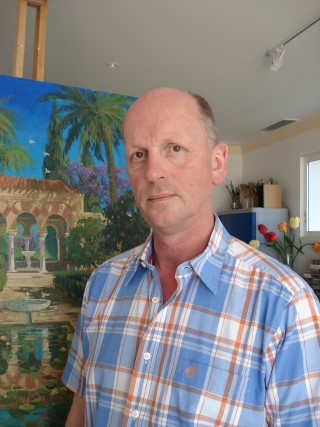 The Artist
Richard Wood was born in London in 1950. From early childhood he showed an unusual flair for painting and drawing and at school excelled at all art subjects. After leaving school he commenced training as a textile designer.
In 1974 a chance meeting with John Miller (1931-2002), a well established painter, encouraged him to take up painting professionally as a full time artist. Initially, from his studio in Lancashire, but now has relocated his studio near to the picturesque village of Mijas, in Andalucía, Southern Spain.
The Style
The paintings are representational in a traditional classic style produced in both oil and water colours. The landscapes and architectural subjects are carefully presented with precision and subtle brush work, in true colours.
The Paintings
Richard's success has enabled him to travel extensively in Europe, Egypt, India, China, Cambodia and Australia . His recent painting are strongly influenced by his Spanish location, with Mijas, Cordoba, Seville , Granada and the Alhambra prominently featuring. He is a admirer of the Spanish artist Sorolla.
The Mission
Richard Wood says -
" Having painted professionally for over 40 years I like to think that I can master the ever changing elements of light and shade. I believe my paintings are images that develops our understanding of the subject, which is often unseen by those people it surrounds. My inspiration focuses the attention to nature, the landscape and architectural details, the very subjects that surround us".
Exhibitions & Commissions
He undertakes private commissions and exhibits in solo and joint exhibitions.
Stop Press - Richard was interviewed on Mijas TV (the local TV station where he lives)

on Dec 3rd 2015

, about his latest exhibition.